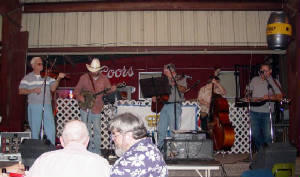 A night at the Manchaca Firehall.
Links we would like to share with you.
Please Check them out!
These are links to organizations and folks that we would like to share with you.
(If you notice any broken links, let us know.)
Central Texas Bluegrass Association (CTBA) - based in Austin, Tx.
Bay Area Bluegrass Association (BABA) - based in the Houston, Tx., area
International Bluegrass Music Association
Society for the Preservation and Advancement of the Harmonica (SPAH)
Cara Cooke's Fiddle-style harmonica page (Interested in learning more?)
Strictly Bluegrass radio show on KOOP radio (91.7 FM in the Austin area)
Austin Friends of Traditional Music
Hill Country Acoustic Music Camp -- Kerrville, Tx.
Camp Bluegrass -- Levelland, Tx.
Other important links for the members of the band and our fans:
Bushman Harmonicas (Try their Delta Frost!)